Join us on a gentle stroll around Glendalough to learn how to identify trees. Discover their history, folklore, ecology and uses, from the mighty oak, the King of the Trees, to the delicate Mountain Ash.
Where: The Information Office, by the Upper Lake, Glendalough.
When: Saturday 3 September @11 a.m. to 1 p.m.
Practicalities: Adults & older children only. No dogs. This event is free of charge, but please be aware that the Upper Lake car park (Wicklow Co. Council) has a €4 charge.
Booking: Booking is essential. To book, please phone 0404 45425. Bookings will be taken from Sat 20 Aug.
For more information about events at Wicklow Mountains National Park, please see our website www.wicklowmountainsnationalpark.ie or contact us at 0404 45425 or email wickloweducationcentre@ahg.gov.ie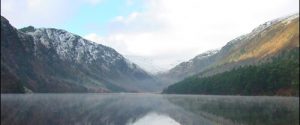 Check out one of NPWS Story Maps: a map based virtual tour of Wicklow Mountains National Park, one of the six National Parks located around Ireland.